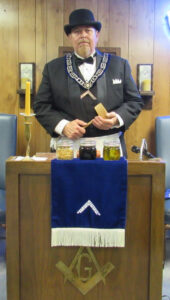 "Masonic labor is purely a labor of love. He who seeks to draw Masonic wages in gold and silver will be disappointed. The wages of a Mason are in the dealings with one another; sympathy begets sympathy, kindness begets kindness, helpfulness begets helpfulness, and these are the wages of a Mason." – Benjamin Franklin
This year the lodge is challenged to take a "Change 4 Children" jar a fill it up with your spare change which we will then deliver to the Masonic Home for Children at Oxford. Jars are available at the lodge so come and get a jar or bring your change to help get one filled.
Also, instead of having one meal a month we are having a meal before each meeting. Our Junior Warden, David Brandon, has done an excellent job of providing meals. I encourage you to come join us if you are a Mason or interested in becoming a Mason for fellowship and an enjoyable meal.