Welcome to Catawba Masonic Lodge #248
of Ancient, Free, and Accepted Masons of the Grand Lodge of North Carolina.
---
Catawba Lodge Captures the Traveling Gavel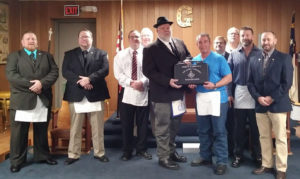 Nine Catawba Lodge members attended Conover Lodge's Officer Installation and captured the 34th District Traveling Gavel in the process.
---
---
What Is Freemasonry?
---
The use of the addresses, phone numbers, names, or other information in this Website for purposes other than official Masonic Lodge or Masonic District business is strictly forbidden by the Grand Lodge of Ancient, Free & Accepted Masons of North Carolina.  Any misuse may result in Masonic and/or civil action.